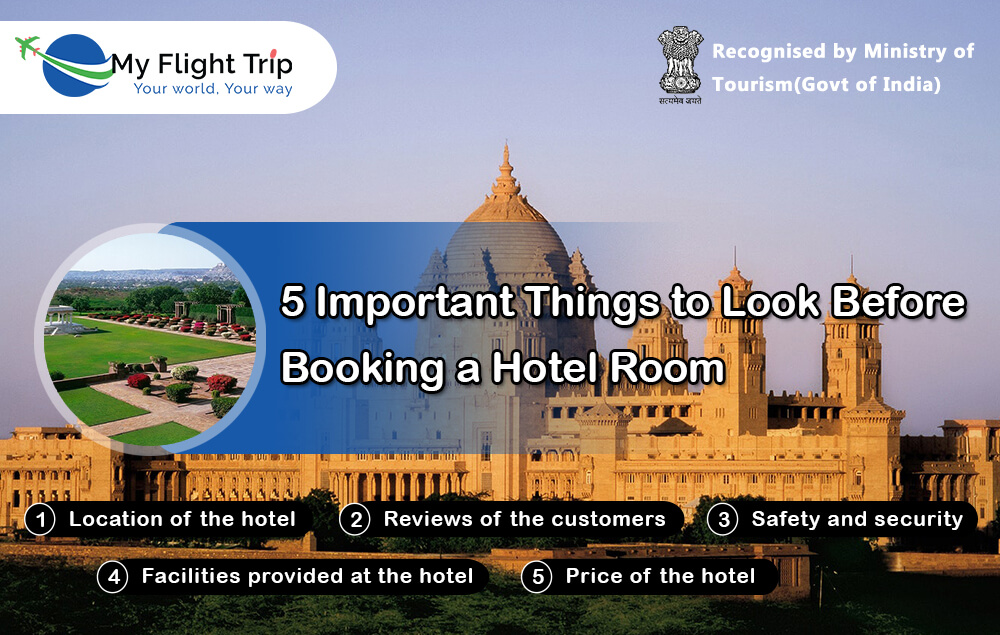 5 Important Things to Look Before Booking a Hotel Room
by MFT

Hits: 489
Looking for online hotel room booking? Travelers today are far more flight-savvy than in the past. Many of us may now afford comfortable and easy flights at reasonable costs thanks to today`s cheap airlines and My Flight Trip. Nevertheless, selecting the best hotel room for our visits is not always that simple. There are several elements to consider, and our judgments are often influenced by factors such as travel budget, style, requirements, location, and others. By taking the time to look at certain things before booking, you can avoid potential problems and make the most of your trip. Here are five important things to consider before booking a hotel room. Keep reading to know more.
1. Location of the hotel
When booking a hotel room, one of the most crucial elements to consider is the location of the hotel. The hotel should be conveniently positioned near the locations you wish to visit or the reason for your vacation. If you are traveling for work, for example, you may prefer to stay in the business area, but if you are on vacation, you may want to be near tourist attractions like the beach. My Flight Trip is one of the best online hotel booking sites where you can find a wide range of accommodations from budget-friendly to luxurious.
2. Reviews of the customers:
Reading reviews from other travelers can provide valuable insights into a hotel`s quality, service, and overall experience. You can read reviews on travel websites or hotel review sites, or ask friends or family for recommendations. People generally have different experiences and perspectives regarding the same thing. Reviews are also a wonderful way to find out whether the hotel is being renovated or if anything isn`t working momentarily.
3. Safety and security:
While booking a hotel, it is important to consider your safety and security. Look for hotels with safe entrances, well-lit parking areas, and other security features. You may also look for any recent security incidents or difficulties at the hotel by searching online or calling the hotel directly. Never compromise your safety and security in a new city even if you`re looking for cheap hotel booking websites.
4. Facilities provided at the hotel:
When booking a hotel room, you should always consider the facilities offered by the hotel. This includes everything from free Wi-Fi to dining options, fitness centers, and swimming pools. Think about what is important to you and make sure the hotel offers those facilities. Also, there are some hotels that charge extra for housekeeping as well, make sure to do your research before booking one. If a hotel`s website does not feature the facility you need, contact them and inquire. If the hotel is modest, it may fail to update its website whenever they begin offering additional features.
5. Price of the hotel:
Price is among the important factor to consider when booking a hotel room. You should have a budget in mind before you start looking for hotels and make sure you are getting good value for your money. Be sure to check for any hidden fees or charges, such as resort fees or parking fees, that could impact your overall cost. There are many cheap hotels online that can give you the best services at a minimal cost, do check out those.
My Flight Trip has been the most trustworthy when it comes to online hotel room booking. From various destinations to choose from you can easily travel and enjoy your vacation while staying at the best hotels hassle-free. From cheap to luxury, it has it all!