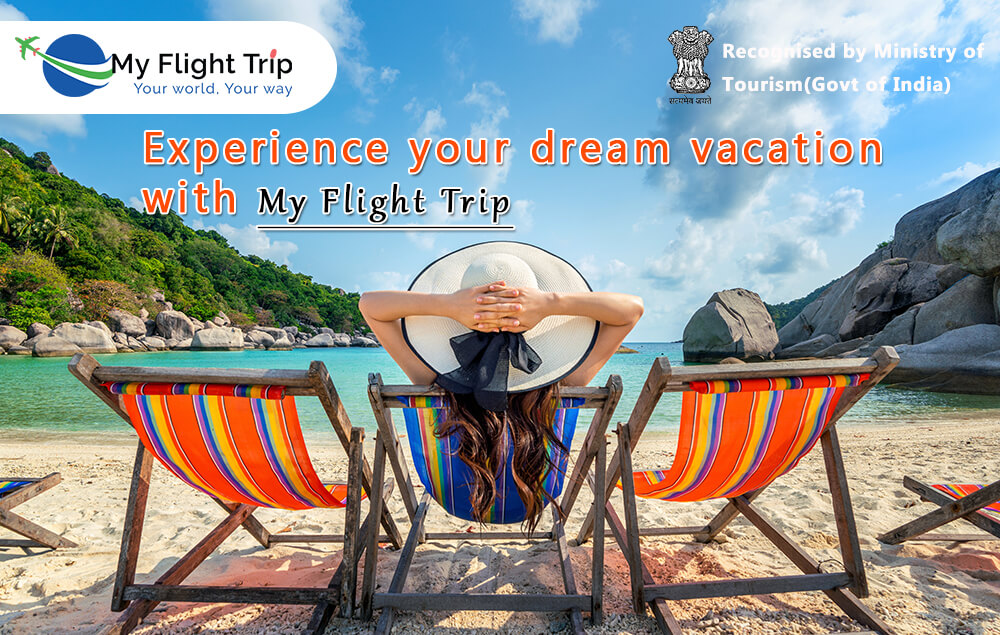 Experience your dream vacation with My Flight Trip
by MFT

Hits: 539
Are you a constant traveler and always on the lookout for great deals and discounts? Planning a trip can be an intimidating endeavor, as there are so many choices to consider and decisions to make. Fortunately, with My Flight Trip, planning your next vacation can be an absolute breeze. My Flight Trip provides a vast array of tour packages, ranging from flights and hotels to holiday packages and transfers. Regardless of whether you`re planning a romantic getaway, a family vacation, or a solo adventure, My Flight Trip has everything you require to ensure your journey is beautiful and comforting. Experience your dream vacation with My Flight Tripas it is one of the best tour operators in India.
Do your booking with My Flight Trip
Firstly, choose your desired destination and travel dates. On My Flight Trip, you will find flights and hotels for that location and timeframe. Remember that peak times may be more costly, so consider traveling during off-peak periods to save money. You will also get the best domestic and international flight deals during the off season.
To book your flight, first, compare flight prices on My Flight Trip to find the best deals and book early for the best rates. Remember to also consider additional services like airport transfers, travel insurance, and tour packages to enhance your trip. Moreover, for the best flight ticket prices, consider booking a round trip flight as it gives additional offers and saves your time and money.
Select the hotel in the city you`re about to travel to, on My Flight Trip you will find all kinds of hotels ranging from luxurious to affordable. So, book according to your needs and desires.
Do not forget to book the airport transfer services too for a seamless and comfortable journey throughout at the most minimal price.
Here`s why you should My Flight Trip
My Flight Trip is among the top tour operators in India for various reasons, such as
My Flight Trip`s website offers a user-friendly interface for customers, designed to make searching for travel services simple and intuitive.
We provide a comprehensive range of travel services, including flights, hotels, car rentals, and holiday packages, catering to various budgets and requirements.
With regular discounts and promotions, My Flight Trip is known for offering competitive prices in the industry.
Our customer support team is available 24/7 to assist customers in case of any queries or issues.
My Flight Trip provides its customers with exclusive deals and discounts on flights, hotels, and tour packages.
Customers can choose from a range of payment options such as credit cards, debit cards, net banking, and so on to make travel easy.
Customers can create customized tour packages to fit their specific needs and preferences. Travel experts are available to assist customers in designing the perfect itinerary for their romantic getaways, family vacations, adventure trips, and more. Head to the tour sections of My Flight Trip`s website and check out the cheapest places to travel that suit your budget and needs.
You will find travel blogs that serve as valuable resources for travelers by providing them with a plethora of inspiration, tips, and guidance for their upcoming journeys.
Remember, travel bookings do not have to be a daunting task and with the help of My Flight Trip, everything becomes much easier. It simplifies your bookings and makes your travel dreamy and hassle-free.