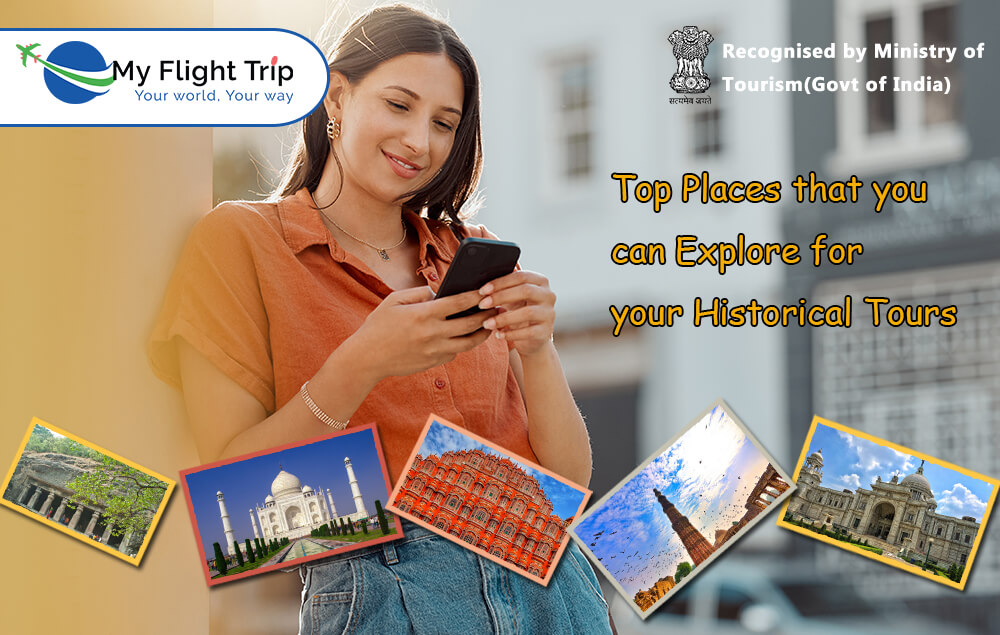 Top places that you can explore for your historical tours
by MFT

Hits: 521
India is a country adorned with magnificent palaces, historic forts, and impressive structures that tell stories of love, courage, and conflicts. Every corner is permeated by the rich history, providing an insight into the past. Monuments have been built throughout history by lots of kings, emperors, dynasties, and kingdoms for an array of reasons. The fact that historical tours in India draw an enormous amount of tourists is undeniable, nevertheless. Each fort, palace, or temple exhibits extraordinary beauty and elegance, from the Taj Mahal to the Hampi ruins. Explore some of the most important historical sites India has to offer whether you`re interested in history or want a taste of the country`s rich culture.
Elephanta Caves, Mumbai:
The UNESCO World Heritage Site Elephanta Caves exhibit Indian medieval rock-cut art and architecture. These caves, which can be seen on Elephanta Island, around 11 kilometers from Mumbai, used to have elaborate artwork. They are accessible by ferry from the Gateway of India and provide a beautiful perspective of the Mumbai skyline. The cave temples, which include two smaller Buddhist caves and a group of five Hindu caves, date from the fifth to the seventh century and are largely dedicated to Lord Shiva. The Elephanta Caves draw tourists in addition to its cultural value as an unexpected hiking destination. By booking the Mumbai Elephanta Caves tour with us you are guaranteed a fulfilling and insightful trip.
Best time to visit: November- February
Taj Mahal, Agra:
Located in Agra, India, the Taj Mahal is a recognized mausoleum. It was built by the Mughal dynasty Emperor Shah Jahan as a memorial to Mumtaz Mahal, his beloved wife who died in 1631. Over 20,000 trained artisans and laborers contributed to the construction of this spectacular monument between the years 1632 and 1653. The Taj Mahal, which is entirely composed of white marble, features magnificent carvings and inlays that use semi-precious stones like lapis lazuli, jade, and crystal. Book Agra tour packages with My Flight Trip to witness the Taj Mahal, which is a UNESCO World Heritage Site, that draws millions of visitors each year with its unmatched beauty and romantic atmosphere.
Best time to visit: October - March
Qutub Minar, Delhi:
The Mehrauli area of Delhi is home to the Qutub Minar, a UNESCO World Heritage Site. At 72.5 meters, it is a triumph tower. In Delhi, it is the second-tallest monument. Following his victory against Delhi`s last Hindu ruler, QutbUd-Din Aibak, who founded the Delhi Sultanate, started building Qutub Minar in 1192. QutbUd-Din-Aibak completed the original building, and his son-in-law Iltutmish built three more levels. Later, Firoz Shah Tuglak constructed the fourth and fifth storeys. It is a must-visit attraction if you`re interested in history and related stories to it. Booking a Delhi tour package is the perfect way to witness the iconic Qutub Minar.
Best time to visit: Throughout the year
Hawa Mahal, Jaipur:
Maharaja Sawai Pratap Singh built the beautiful Hawa Mahal in Jaipur, India, in 1799. It is located at the intersection of Badi Chaupad, the main road. The term "Hawa Mahal" refers to the building`s unusual style, which had many tiny windows that let in cool breezes to keep people comfortable during the scorching summers. The palace was largely constructed so that, in accordance with the time`s traditions, the royal women could watch street celebrations without being seen. The Hawa Mahal, which was constructed with red and pink sandstone, features 953 beautifully carved windows, and its pyramid-shaped construction resembles a crown.Moreover, Jaipur is renowned for its historical beauty and importance. The Jaipur Pink City tour is an ideal way to explore all the historical sites that play a significant role in today`s era.
Best time to visit: October - March
Victoria Memorial, Kolkata:
Kolkata`s Victoria Memorial is an incredible architecture with a significant historical and cultural background. This magnificent building, located in the center of the city, is a monument to the splendor of India`s British imperial past. With exteriors made of white marble, magnificent domes, arches, and columns, it has enticing British and Indian architectural combinations. Kolkata also has other noteworthy historical landmarks so don`t pass up the chance to explore Kolkata`s vibrant beauty.
Best time to visit: March - October
Travel back in time as you explore India`s fascinating historical sites, where the rich history of the nation comes to life. This historical tour will make a lasting impression, whether you love history, architecture, or the adventure of travel. Above mentioned are the topmost choice among tourists. There are plenty of beautiful historical sites too that you can visit to learn and experience more.