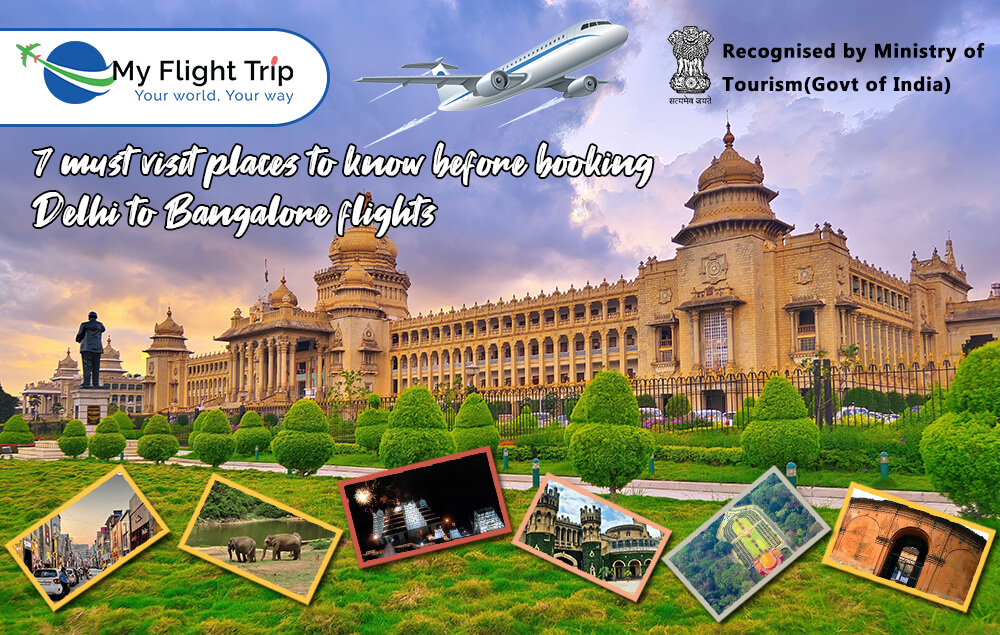 7 must visit places to know before booking Delhi to Bangalore flights
by MFT

Hits: 516
Everyone is entitled to a respite from the routine of daily life. Workplace pressures like client meetings, deadlines, and presentations may be mentally taxing. The greatest thing we can do for ourselves in these circumstances is to take a little vacation apart from our usual problems. However, due to the inability to take time off or the challenge of finding a less crowded site, this plan frequently appears difficult to carry out. If you are residing in Delhi and looking for escape in the southern part of India, we are here to guide you! Bangalore, known for its busy lifestyle where everyone is thriving to hustling, also has some of the best places to explore and visit. With diversity in culture and tradition, Bangalore never fails to impress tourists with its welcoming energy. Henceforth, book cheap Delhi to Bangalore flights for your vacation and keep scrolling to know the must visit places in Bangalore.
A brief about Delhi:
The cuisine, culture, history, and other attributes of Delhi are well-known. It presents a novel viewpoint on daily life, work, architecture, and the diversity of people.Due to its reliability and cleanliness, the Delhi Metro is a point of pride for the city. It functions as a parallel universe to Delhi's bustling streets above ground. In contrast to most big cities, Delhi's complete public transit system works on environmentally friendly compressed natural gas, resulting in lesser pollution and improved efficiency.While on a Delhi tour, you must have the mouthwatering fried and tandoori grilled kebabs. Don't miss out on famous tourist spots like Red Fort, Lotus Temple, Lodhi Garden, Akshardham Temple and so on. For any shopaholic, it's the ideal mix of cuisine and shopping.
A brief about Bangalore:
More than just being India's IT hub, Bangalore, the state capital of Karnataka, has a lot to offer. There are several clubs and pubs in Koramangala and Indiranagar, which contribute to the city's amazing nightlife. A stroll along the busy MG Road is also an option for night owls, as are late-night dance parties at venues like Monkey Bar and Toit, live music performances at Hard Rock Caf`e and The Humming Tree, and Hard Rock Caf`e. Foodies won't be let down either because Bangalore's eateries and restaurants provide a variety of regional and international food. Moreover, traveling to Bangalore has become easier than ever with My Flight Trip`s flight bookings and availing affordable flights from Delhi to Bangalore.
7 must visit places in Bangalore:
Bangalore is full of mesmerizing beauty to explore, before booking a New Delhi to Bangalore flight, you should check out these 7 must visit places in Bangalore:
Lalbagh Botanical Garden: It provides a tranquil haven for Bangalore residents seeking a respite from the hectic pace of the city.
Bannerghatta National Park: On the outskirts of the city, Bannerghatta National Park provides a chance to see fascinating species up close. Sloth bears, sambars, wild boars, elephants, and leopards live in the park.
Cubbon Park: Bangalore's Cubbon Park is a welcome respite from the hectic city life. The park's 300 acres of lush vegetation and tranquility make it the perfect place for a romantic stroll or a family trip.
Lumbini Gardens: With its serene atmosphere and beautiful surroundings, Lumbini Gardens is a unique attraction in the city that attracts a lot of people every day.
ISKCON Temple: The temple is well-known for its exquisite icons of Radha and Lord Krishna and its neo-classical architecture and decorative archway at the entry.
Bangalore Fort: One of Bangalore's main attractions is this intriguing historical structure.
Commercial Street: Budget shoppers will enjoy Bangalore's Commercial Street. This lively street, which is close to the well-known M.G. Road, is lined with shops that provide stylish clothing and accessories at reasonable costs.
When it comes to exploring Bangalore on your own, it becomes a little tough managing your expenses as Bangalore is an expensive city. But don't worry because, with My Flight Trip, you can be assured of an affordable Bangalore tour package you can book. Bangalore is also well connected with all the major transportation services.
Visit My Flight Trip to benefit from incredible savings on Delhi to Bengaluru flights. With our user-friendly website and round-the-clock customer support, booking is a snap. By booking flights, you can travel without worry and unleash your inner wanderlust.