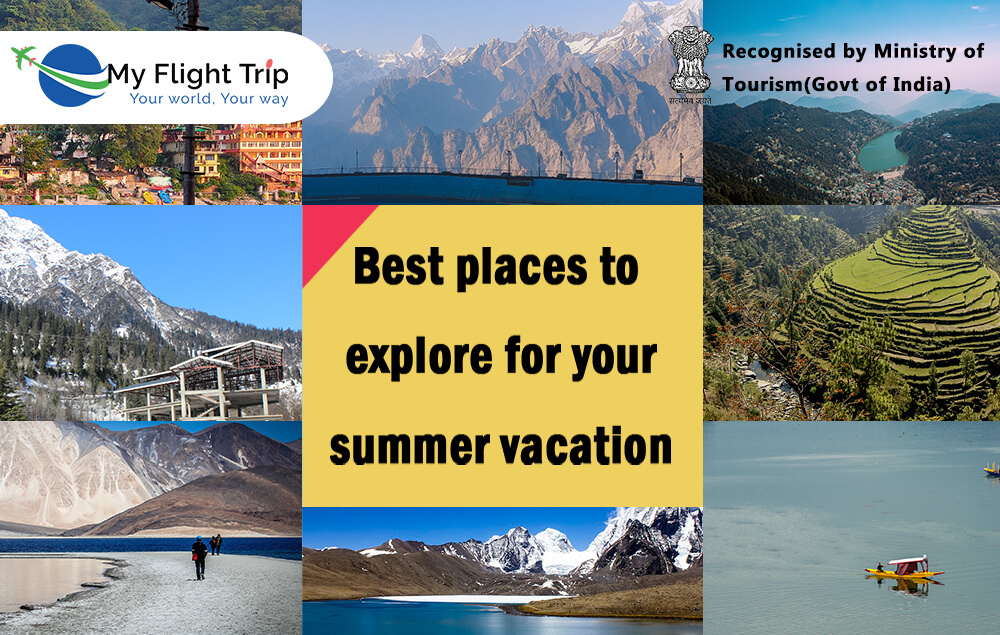 Best Places to Explore for your Summer Vacation
by MFT

Hits: 555
Summer being the hottest season of the year is just around the corner and it is a delightful time for children as they are on a break from school. This makes it the ideal period for families to embark on a vacation to India's most mesmerizing and serene destinations. India is a country blessed with a wide variety of scenic spots such as mountains, hills, beaches, lush forests, and more, which offer a welcome respite from the blazing heat. Summer in India commences in April and lasts until the end of June. Here are some of the best places to explore in summer. Add these places to your bucket list and do your bookings with My Flight Trip for world-class service and an adventure filled holiday.
1. Shimla:
Located in the northern part of India, Shimla is a renowned hill station that beautifully combines Indian grandeur with British sophistication. It is a popular summer getaway that boasts a rich history and is blessed with breathtaking natural beauty. Tourists can immerse themselves in Shimla local sightseeing by strolling along the Mall road or discovering the stunning Viceregal Lodge. If you're seeking a relaxing yet enjoyable retreat, Shimla is definitely one of the top destinations to consider visiting in May and June.
2. Gangtok:
Gangtok is a serene yet stunning destination in the northeast of India and is often underrated by tourists. May and June are the ideal months to visit this charming capital city of Sikkim. Nestled amidst the clouds, Gangtok is surrounded by lush greenery, deep valleys, and beautiful landscapes. The town offers a perfect blend of modern city life and a laid-back hill-station lifestyle, making it an ideal choice for a tranquil vacation. Indulge in adventure activities like river rafting on the Teesta River, and be awestruck by the breathtaking Nathu La Pass on your Gangtok tour. And, of course, you must savor the authentic local delicacies.
3. Kashmir:
Kashmir, with its enchanting locales of Gulmarg, Srinagar, and Pahalgam, has long been a favourite summer destination for tourists. A houseboat cruise or a serene Shikara ride on the crystal-clear Dal Lake offers a perfect way to unwind. Moreover, the breathtaking sight of tulips in bloom amidst the Srinagar valleys is truly a sight to behold. Book your Kashmir tour package with us and witness the beauty of Kashmir with your family.
4. Auli:
Auli is an ideal destination for a summer vacation, offering thrilling skiing opportunities on the snowy peaks, amidst the serene backdrop of the Himalayas, dotted with apple orchards and pine trees. The highlight of the Auli trip is a ride on the Auli ropeway, which spans 4 km, offering panoramic views of the lush pastures and meadows below.
5. Ooty:
Nestled in the southern part of India, Ooty is a charming and serene town that attracts tourists to spend their summer vacations there. Ooty, as it is known, has been an ideal tourist destination since the days of British colonial rule, and for good reason. It is a nature lover's paradise, offering absolute greenery, delightful weather, and attractions such as tea plantations, flower gardens, colonial landmarks, waterfalls, and more, waiting to be explored. Book your Ooty tour now!
All the destinations mentioned above are budget friendly and offer the most beautiful experience to tourists. Travel to these magnificent locations with us and allow us to provide you with the best facilities at the most affordable rates while you enjoy your summer vacation with your family.