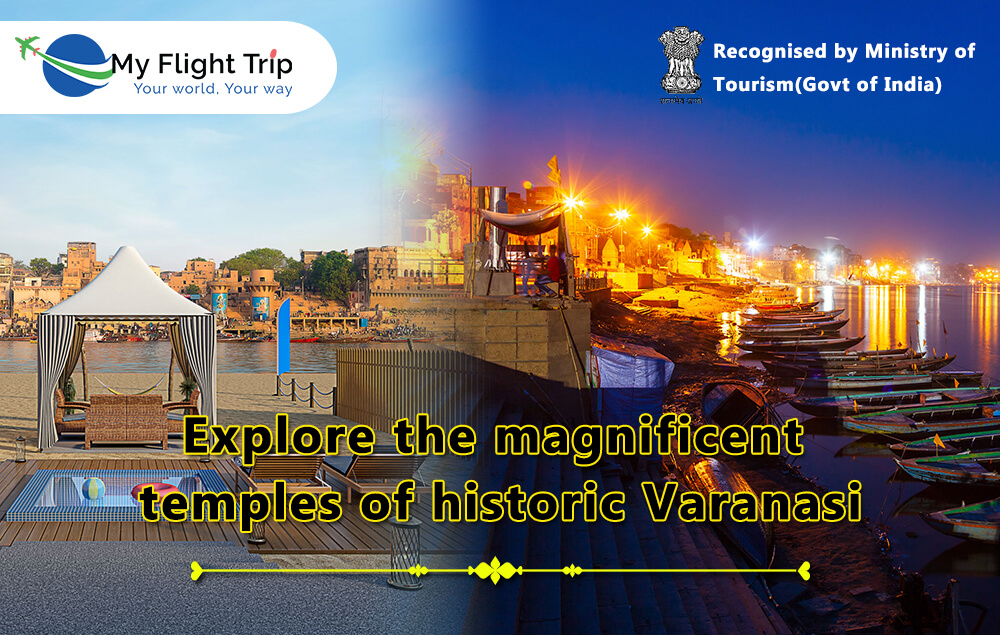 Explore the Magnificent Temples of Historic Varanasi
by MFT

Hits: 516
One of India`s most important spiritual destinations is Varanasi, sometimes referred to as Banaras. Along the banks of the sacred Ganges River, the city is situated in the state of Uttar Pradesh. The cultural legacy, spiritual relevance, and religious significance of Varanasi are well known. It is a well-liked Hindu pilgrimage destination because it is filled with various historic temples and ghats. Everything you need to know about visiting Varanasi, including tour packages, sightseeing options, and Banaras Ganga Arti, will be covered in this blog.
Sightseeing packages for Varanasi
My Flight Trip provides a detailed schedule for visiting the city`s well-known markets, ghats, and temples. Accommodations, transportation, and a guide to tour the city are all included in these packages. You can choose from a number of packages, ranging from one day to a week-long excursion, depending on how long your stay will be.
Varanasi tour packages include witnessing some of the city`s most well-known tourist destinations, such as Kashi Vishwanath Temple, Sankat Mochan Hanuman Temple, Durga Temple, and Tulsi Manas Temple. The package also includes a boat ride along the Ganges to see the captivating nighttime ceremony of river worship known as Ganga Arti.
Various Temples in Varanasi
Varanasi is home to numerous temples that attract pilgrims and tourists from all over the world. Some of the famous temples in Varanasi are:
Kashi Vishwanath Temple: Located in the heart of Varanasi, this temple is dedicated to Lord Shiva and is one of the most important pilgrimage sites for Hindus.
Sankat Mochan Hanuman Temple: This temple is dedicated to Lord Hanuman, a popular deity in Hindu mythology. It is believed that worshipping here can help one overcome obstacles and troubles in life.
Durga Temple: This temple is dedicated to Goddess Durga, who is worshipped as the divine mother and protector. The temple is well-known for its stunning architecture and exquisite sculptures.
Tulsi Manas Temple: This temple is dedicated to Lord Rama and is believed to be the place where the Hindu epic, Ramcharitmanas, was written by the poet, Tulsidas.
Trip Package to Varanasi
For individuals who want to explore the city independently and at their speed, a Varanasi trip package is ideal. Accommodations, transportation, and a trip adviser are all included in these packages, which will help you organize your schedule.
Popular tourist destinations including the Ramnagar Fort, the Bharat Kala Bhavan Museum, and the Manikarnika Ghat, where you can see the customary Hindu cremation ceremony, are all included in the Banaras tour package. You can also visit Sarnath, a place of Buddha`s first sermon.
Witness the splendid Ganga Arti
With My Flight Trip`s Varanasi sightseeing package, you will witness the majestic Ganga Arti which is a daily religious ritual that takes place on the banks of the Ganges River in the city of Varanasi, India. The Aarti is performed at sunset by a group of priests or pandits, who offer prayers and hymns to the river and its deities.
During the Aarti, the pandits light lamps and incense, wave them in circular motions, and sing hymns in praise of the Ganges. The lamps are adorned with flowers and are placed on a large metal plate, which is moved in a circular motion to the accompaniment of music. This is a worthy experience to encounter that you will cherish for a lifetime.
Apart from the spiritual aspect, Varanasi is also known for its rich history and heritage. The city has a unique blend of ancient and modern architecture and offers a glimpse into the country`s past. Check out our Varanasi tour packages and explore the beauty of this place.