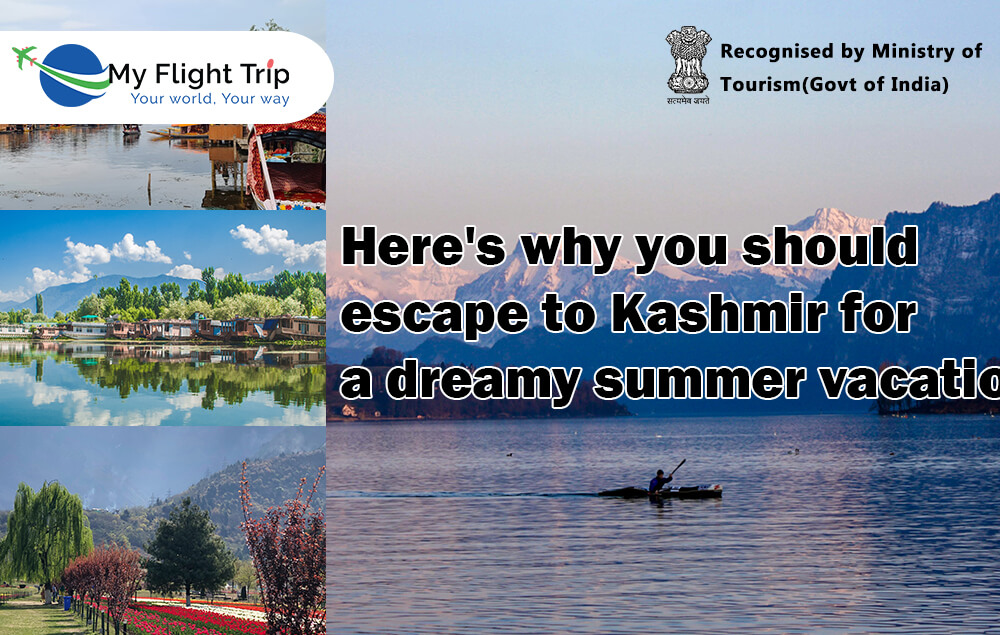 Here`s why you should escape to Kashmir for a dreamy summer vacation
by MFT

Hits: 567
Kashmir is a destination like no other when it comes to experiencing the breathtaking beauty of the snow-capped Himalayas. The beauty of Kashmir is beyond words and not only attracts tourists but also makes it a preferred destination for many photographersfor its picturesque valleys and mountains. The valley has several captivating spots that one can visitand explore with Kashmir tour packages. Kashmir is also famous for trekking, trails, lakes, gardens, authentic cuisine, and several religious sites. With a wide range of accommodations available, you can live in houseboats, five-star hotels, or resorts depending on your budget and preference. During summer, the majestic valleys transform from glistening white blankets of snow to fresh green landscapes making it the best time to visit. The climate is pleasantly mild with beautiful rays of sunshine, and the mountain air is refreshing. Here are a few reasons why you should escape to Kashmir for a dreamy summer vacation.
1. A peacefulshikhara ride on the pristine Dal Lake in Srinagar:
Srinagar is one of those places which looks so picturesque that you`ll be in awe of its ethereal beauty owing to its verdant hills and vibrant blossoms. The renowned Dal Lake, with its serene beauty, only serves to enhance the allure of this place. A trip to Kashmir is incomplete without experiencing the charm of this lake, making it a prime reason to plan a visit to the region. It is a favorite destination among tourists and couples alike making it a delight for photography enthusiasts. You can even check out Kashmir packages for couples and travel to this prime destination with your other half and enjoy the floating markets and gardens here. Stay at houseboats and shikaras which are the main attractions of Dal Lake.
2. A place for adventure enthusiasts:
Nestled between the Great Himalaya and Pir Panjal mountain ranges lies the scenic Kashmir Valley, which offers a plethora of adventure activities such as camping, trekking, and mountaineering. The region`s stunning natural beauty, comprising majestic mountains, serene lakes, and verdant meadows, is sure to leave tourists spellbound. One of the most popular treks among tourists is the Kashmir Great Lakes Trek, which takes you through the foothills to explore the Gangabal, Kishansar, and Vishansar lakes near the Harnukh Peak. With boundless opportunities for fun and adventure, Kashmir is a haven for adventure enthusiasts. My Flight Trip offers cheap Kashmir packages with airfare, this would surely make your Kashmir tour worth remembering.
3. Savour the delicious and authentic Kashmiri cuisines:
Kashmir is renowned for its authentic foods, offering a diverse range of street food and restaurants that cater to all palates. Tourists flock to this region to indulge in an array of delectable vegetarian and non-vegetarian delicacieslike:
You cantry out the refreshing Kahwah and Noon Chai which is one of the specialties of Kashmir.
If you are a meat lover, do not miss out on the flavorful Rogan Josh, Yakhni, Matschgand, and Qabargaah.
For vegetarians, the Kashmiri Dum Aloo, Paneer Chaman, Kashmiri Saag, and Nadur Churma are must-tries.
My Flight Trip is among the best Kashmir tour operators which provide the best services and amenities.
4. Explore the rich history of Kashmir through Historical Monuments:
Jammu & Kashmir`s rich cultural heritage is embodied in its spectacular historical monuments, which are a major draw for tourists. Visitors are often captivated by the region`s stunning landmarks, such as the Martland Sun Temple, Bumzuva Cave, Shankaracharya Temple, Khanqah of Shah Hamadan, Patthar Masjid, Pir Haji Muhammad Sahib, Jama Masjid, Hari Parbat Fort, Pari Mahal, and many more. Jammu and Kashmir tour packages are the most preferred tours among people.
5. Witness the shops of Kashmir that sell beautiful handicrafts and souvenirs:
Kashmir offers one of the best shopping experiences that draws various tourists from across the globe. The busy markets are filled with a variety of items such as:
Pashmina shawls are a fine type of woolen shawls, known for their softness and lightweight.
Silverware, handicrafts, antique copperware, carpets, and more are also quite famous in Kashmir which you can get for yourself as a part of a souvenir.
In addition, traditional jewelry, dress materials, and Papier Mache products, such as baskets, flower pots, and coaster sets, are some of the other must-buy items on your Kashmir trip.
For the cheapest tour packages for Kashmir, head out to My Flight Trip and select the best one according to your preference and get to explore the ultimate beauty.
With the reasons being given, it is now time for you to book Kashmir tour packages now experience everything Kashmir has to offer especially during the summer season.