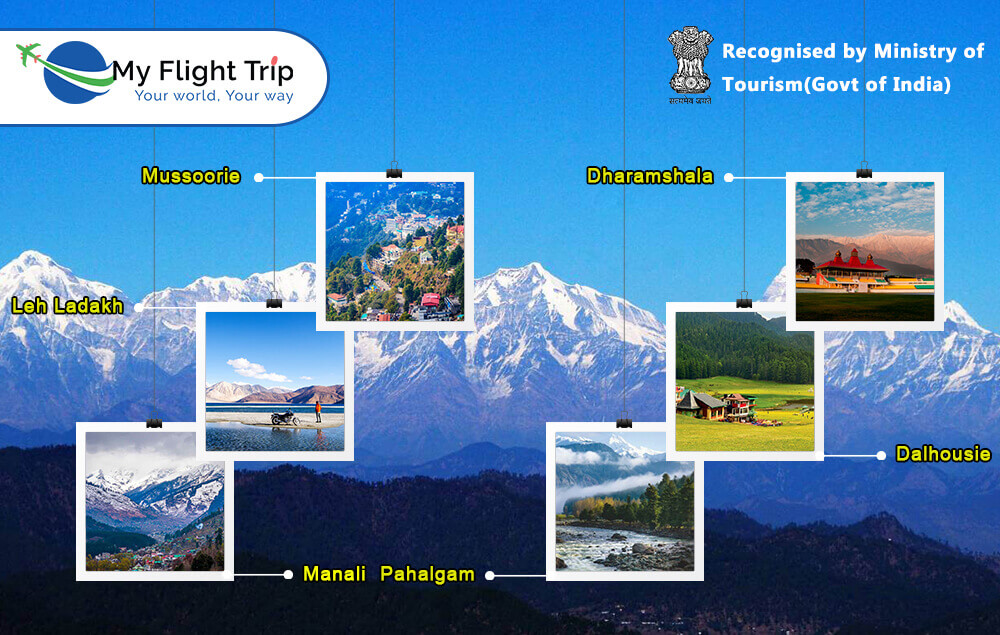 Top hill stations to explore in North India
by MFT

Hits: 445
The hill stations of North India offer the ideal fusion of majestic mountains, evergreen forests, picturesque valleys, and a tranquil environment. These destinations provide an array of experiences, making them perfect for the summertime. In contrast to the oppressive heat of the lowlands, these hill stations offer relief and a sense of peace. Adventure seekers can engage in sports like rafting, paragliding, and trekking, while nature lovers will be in their element. Aside from picnic areas, parks, and distinctive pilgrimage sites, these destinations also appeal to a variety of interests. The top hill stations in North India are not just budget travel destinations buttheir well-known attractions are worth exploring if you`re looking for the perfect destination for your next holiday.
Manali, Himachal Pradesh:
Manali, located in the magnificent Himalayas, provides a lovely fusion of nature, adventure, and cultural legacy. Families and friends will love visiting this hill station in North India. Manali is blessed with breathtaking natural beauty, encircled by snow-capped peaks, lush woods, and the scent of pine trees. Book the Manali tour package because Manali never fails to enchant visitors throughout the year, whether they are touring museums and temples, finding lovely hippy villages or busy streets, experiencing river experiences, or trekking paths.
Best time to visit: October to June
Leh Ladakh, Jammu & Kashmir:
Due to its untamed landscapes and magnificent attractions, Leh is an impeccable tourist destination. It has stunning natural beauty, renowned monasteries, and clear lakes. Backpackers and adventure seekers choose the area because of its intense spiritual and cultural atmosphere and breathtaking vistas. Ladakh is a true heaven on Earth with its wealth of attractions, interesting people, and distinctive culture. It has an alluring mystique and is encircled by the magnificent Great Himalayas, Karakoram, Ladakh, and Zanskar mountain ranges. The Ladakh tour package provides a magnificent experience that shouldn`t be missed.
Best time to visit: June to September
Mussoorie, Uttarakhand:
With its natural beauty, cultural diversity, and religious importance, Mussoorie, one of North India`s most well-known hill stations, makes for a wonderful trip. Mussoorie provides attractions to suit everyone`s tastes, whether they choose adventure or rest. Enjoy exhilarating activities like a wildlife safari, horseback riding, hiking, rafting, paragliding, and more as you explore nature and get a taste of the local culture.
Best time to visit: September to June
Pahalgam, Jammu & Kashmir:
The breathtaking natural splendor of Pahalgam remains pristine. It provides a tranquil getaway in the midst of nature because of the spectacular Himalayan peaks and lush flora that surround it. A captivating mood is produced by the lovely surroundings, charming homes, and active saffron farms. There are several options to discover the mountains and valleys of this unspoiled region, whether you love fishing or trekking. Pahalgam is also a prominent destination for couples alike, so you can check out Kashmir packages for couples.
Best time to visit: Throughout the year
Dharamshala, Himachal Pradesh:
Dharamshala, a well-liked hill station in North India, is renowned for its allure and is frequently referred to as the "Little Lhasa of India". In addition to enjoying the quiet beauty of the waterfalls and the tranquil environs, visitors may explore temples and monasteries. Dharamshala, which is separated into upper and lower divisions and is situated in the Kangra area, 18 kilometers from Kangra City, offers various experiences in each. It is an underrated location among the hill stations in North India, giving it a great option for travelers.
Best time to visit: October to June
Dalhousie, Himachal Pradesh:
he gorgeous Himachal Pradesh town of Dalhousie is a traveler`s dream. Some of the most spectacular sights you`ll ever see may be found here, including its old-world charm, breathtaking natural beauty, lush valleys covered with pine trees, vibrant meadows, fast rivers, and stunning mist-covered mountains. The calming British ambiance is evoked by the Scottish and Victorian architecture that permeates the air in this hill station in North India.
Best time to visit: Throughout the year
Travel happily to the alluring hill stations of North India to get away from the chaos of daily life. Explore a variety of attractions and exhilarating excursions to satisfy your cravings for travel. Experience the splendor of these mesmerizing destinations firsthand and make lifelong memories.